My Presidential Platform: About the Football
The previous plank in my presidential platform can be read here. Read all posts here.
Allow me to address your natural concerns about my being in control of a vast arsenal of nuclear weapons.
There is some sort of briefcase they call "the football" that follows the President everywhere. It contains the means by which the President can launch a nuclear attack. Somebody has to carry it around and make sure it's always nearby in case the President wants to obliterate millions of people with a nuclear bomb at a moment's notice.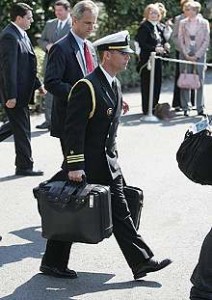 "Can a woman really be in charge of nukes?" is a commonly voiced concern. Can she really do as good of a job as a B-movie actor in what we now know were the early stages of Alzheimer's disease, or someone who was in charge of a major league baseball franchise while under the influence of copious amounts of cocaine, or someone who was once a lawyer? Can a woman do as well as these esteemed men at this job? What about her—womanly moods?
I will do as all other presidents before me have done, one of the few sane things any of them have ever done. Or rather, I will do one of the few sane things all of them have never done.
I will never, ever open this briefcase.
Even if I get—really moody.
Next plank: About the Bullet
Comments
One Response to "My Presidential Platform: About the Football"
Trackbacks
Check out what others are saying...